The self is a central issue in all psychological problems we treat in therapy: most clients struggle with self-awareness, at least to some degree; many struggle with self-criticism or a lack of self-efficacy; others struggle to feel whole and stable; some struggle to find a balance between attachment and differentiation in their relationships; others struggle to engage in new actions that contradict their self-concepts.
Relational fame theory (RFT) is a contextual behavioral approach to language and cognition that underpins acceptance and commitment therapy (ACT), and is applicable to enhance clinical conversations in a number of other psychotherapy approaches. From a relational frame theory (RFT) perspective, all these problems arise from language processes that fail to distinguish psychological experiences (emotions, thoughts, sensations) from the observation of these experiences. When people identify with what they think, feel, and do, they lose the freedom to live a rich and meaningful life because experiences that inevitably accompany self-growth are perceived as too threatening. Developing a sense of self that contains, but is distinguished from, psychological experiences is thus key to the therapeutic process.
In this workshop, you will learn to use RFT principles to help clients build a sense of self that allows them to be stable and flexible; responsible and self compassionate; connected and differentiated. We will focus in particular on perspective taking and integrative thinking processes activated through experiential exercises and clinical conversations.
The training will include didactics focused on clinical skills, experiential exercises allowing you to apply RFT principles to yourself, analyses of therapy demonstrations, and role-plays. In order to best benefit from the training, you will be encouraged to personally engage in experiential exercises and to explore clinical techniques that may challenge your usual practice.
LEARNING OBJECTIVES
After attending this two day training, participants will be able to:
Describe the main principles of RFT relevant to clinical practice
Describe the RFT approach to the concept of self
Describe the process of building variability in the sense of self
Apply techniques to build variability in the sense of self
Describe the process of establishing stability in the sense of self
Apply techniques to establish stability in the sense of self
Describe the process of building a coherent sense of self
Apply techniques to build a coherent sense of self
Describe the process of establishing a balanced sense of responsibility
Apply techniques to establish a balanced sense of responsibility
Apply exercises to foster a flexible sense of self
Apply flexible self techniques to yourself
---
INSTRUCTIONAL LEVEL: Participants will ideally have at least a basic understanding of ACT to benefit from the material covered in this workshop. This is not a basic workshop on ACT, but instead intended to foster further skill development for those who want to deepen their work with ACT or RFT.
---
SCHEDULE
FRIDAY 2/2 2018
10:00 – Registration begins
10:30 – Workshop begins
12:00 – Break for lunch
12:50 – Workshop resumes
14:20 – 15 min break
16:00 – 15 min break
17:30 – Workshop ends
SATURDAY 3/2 2018
8:00 – Workshop begins
9:30 – 15 min break
12:00 – Break for lunch
12:50 – Workshop resumes
14:20 – 15 min break
16:30 – Workshop ends
---
WORKSHOP LEADER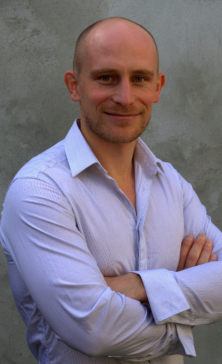 Matthieu Villatte, PhD is a Research Scientist and Clinical Trainer at the Evidence Based Practice Institute in Seattle, WA. He obtained his doctoral degree in France, with an emphasis on Relational Frame Theory, and completed a post-doctoral fellowship at the University of Nevada, Reno under the mentorship of Steven Hayes.
He is the co-author of the first manual published in French on Acceptance and Commitment Therapy and is Associate Editor of the Journal of Contextual Behavioral Science. His new book, Mastering the Clinical Conversation: Language as Intervention, is co-authored by Jennifer Villatte and Steven Hayes.
He also authored and co-authored chapters in several books on contextual behavioral science, such as The Self and Perspective Taking, Mindfulness and Acceptance for Counseling College Students, The Big Book of ACT Metaphors, Handbook of Mindfulness: Theory and Research, Working with Emotions in CBT, The Handbook of Contextual Behavioral Science.
Matthieu Villatte is an ACT Trainer, peer-reviewed by the Association for Contextual Behavioral Science (ACBS). He has facilitated over 80 workshops on the clinical applications of Contextual Behavioral Science in North and South America, in Australia and New-Zealand, and in Europe.
---
THE WORKSHOP: ACT INSTITUTET SWEDEN  Offers workshops for small groups. We do not belive that more than 30 in a workshop that is experientiall will bring consistent benefits. We want you to have access to the trainer, be able to ask your questions and have a lot of time for practice.
LANGUAGE: English
FOR WHOM: This workshop is intended for mental health professionals (psychologists, psychiatrists, social workers, etc.) at all levels of expertise and working with any population in any treatment setting. 
LEVEL: Some prior exposure to Acceptance and Commitment Therapy (ACT) or other 3rd wave therapies is encouraged but not absolutely necessary.
HOW BIG IS THE GROUP? This is an exclusive training and the group will be small (that means that there are not many spots left!)
WHERE: In Gothenburg, Sweden (more information below)
WHEN: 2 and 3 February 2018
PRICE WORKSHOP: 6200 SEK + taxes
INCLUDED: snacks for the coffee pauses, course material, and certification of attendance
NOT INCLUDED: lunch. Organic and vegetarian lunch (with or without fish) can be ordered for 150 SEK.
ACCOMMODATION: The venue is in a residential area of Gothenburg, by the woods and totally silent. We can accommodate 8 guests (two in a loft and 4 to 6 in a big room). Acces to sauna and shower and several WC. There is a kitchen with all needed for breakfast (self-help and cleaning after). PRICE ACCOMODATION PER NIGHT: 650SEK, inclusive breakfast 700SEK and with light dinner 800SEK.
*All our trainers are ACBS peer reviewd trainers, which is a quality certification for teaching and developing ACT
SaveSave